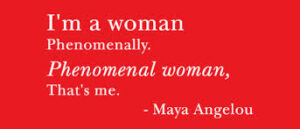 I was taking a much needed break from a fantastic life storm of uncertainty and change when I stumbled on the movie Beauty Shop starring Queen Latifah.  It's one of those movies you can move in and out of while busying about doing other things, without really missing anything.
There were two scenes that captured my attention and both were Maya Angelou moments.  I'll share the first one here and now, Phenomenal Woman.   When I pulled up the poem and read it in it's entirety my soul hummed with joy, love, and appreciation for being a PHENOMENAL WOMAN!  Enjoy…
Phenomenal Woman
Pretty women wonder where my secret lies.
I'm not cute or built to suit a fashion model's size
But when I start to tell them,
They think I'm telling lies.
I say,
It's in the reach of my arms
The span of my hips,
The stride of my step,
The curl of my lips.
I'm a woman
Phenomenally.
Phenomenal woman,
That's me.
I walk into a room
Just as cool as you please,
And to a man,
The fellows stand or
Fall down on their knees.
Then they swarm around me,
A hive of honey bees.
I say,
It's the fire in my eyes,
And the flash of my teeth,
The swing in my waist,
And the joy in my feet.
I'm a woman
Phenomenally.
Phenomenal woman,
That's me.
Men themselves have wondered
What they see in me.
They try so much
But they can't touch
My inner mystery.
When I try to show them
They say they still can't see.
I say,
It's in the arch of my back,
The sun of my smile,
The ride of my breasts,
The grace of my style.
I'm a woman
Phenomenally.
Phenomenal woman,
That's me.
Now you understand
Just why my head's not bowed.
I don't shout or jump about
Or have to talk real loud.
When you see me passing
It ought to make you proud.
I say,
It's in the click of my heels,
The bend of my hair,
the palm of my hand,
The need of my care,
'Cause I'm a woman
Phenomenally.
Phenomenal woman,
That's me.
~Maya Angelou
We should all have friends who speak their belief in us the way Miss Josephine does in this clip.
I "pinked" a moment in the poem that spoke loudest to me – where I am right now.
Is there a moment that calls to you?  Listen and receive the wisdom flowing to you.  It's a gift…just for you.
Don't be shy and let me know what called to you.  I love the sound of your written words.
xo-T
Celebrating What Makes You Different
Ready to journey within?  Click here to Be-come
Be bold.  Be brave.  Be you.