Freedom to be you without the shoulds IS Sober Freedom.
Feeling a little hippie vibe today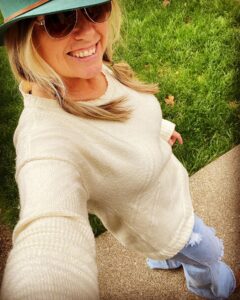 Not too long ago, I dressed the way I was supposed to. Wear your brand colors, dress for success, don't ever be seen less than polished, they say. 
In reflection, it feels a bit insane that I would ever be anyone but me.
I like options. I like to express my freedom of choice. I like to feel good in my clothes, and that may vary with the day.
I appreciate a great-fitting suit, jeans, and a t-shirt with bare feet, a lovely flowy dress with great shoes, or even a more playful look putting my favorite pieces together.
You may remember a post from a couple of months back I wore camo pants, a pumpkin t-shirt, red floral kimono, and flip-flops, and I felt great!
I've traveled to, through, and back from hell again and again, and it's all refined me to who I am today with no apologies.
Are you ready to get incredibly comfortable in being the most you possible? The you that feels effortless and good?
That's the aim for #soberfreedomsisterhood
We explore, experiment, and practice being who we want to be, what we want to do, and how we want to live without misusing alcohol as a buffer.
That pull you feel to make a change is the inner-you saying we've got things to do now quit distracting yourself and let's get on with it!
#soberfreedom#feelgood#soberchoices#beforeyoudrinkthinkpink#possibilities
#intentions#neuroscience#neuroplasticity#kindness#nolabels
Much love,